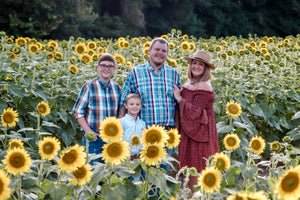 Meet our Family
We are a family owned business located inside of "The Small Shop on Main" at  125 W. Main St. Williamston NC. My name is Mandy and this is my husband Brian and our two sons Mason (oldest) and Maverick (youngest) We specialize in baby, toddler and children's clothing, accessories and shoes. Our aim is to provide you with high quality, affordable products while offering the best customer service. We hope you enjoy Southern Charm Kids. Thank you for supporting our small business. 
Love, Mandy Phelps; Owner
www.southerncharmedsmocksboutique@gmail.com
Proud Supporters
K Love radio is a contemporary christian radio station solely supported by the listeners. We listen to K Love everyday. A portion of sales is donated to K Love monthly.